The Leviim Art Gallery is interested in buying James Rizzi artwork for cash. James Rizzi is an American artist known for his 3D pop art who passed away in 2011. Rizzi attended school in Florida and immediately went to to exhibit his work at the Brooklyn Museum.
He used bright, vibrant graphics to create his one-of-a-kind art. Rizzi developed a new technique- he hand-colored silkscreen prints and then added cutouts. He would also utilize wire as a means of adding visible depth and layers. The subject of his work is the happiness of New York City- smiling buildings, laughing fire hydrants, recognizable buildings from the city. He sought to illuminate the magic of New York City's diversity in culture, religion, and language. James Rizzi wanted the viewers of his art to see the world through innocent eyes and look for the joy and commonality between each and every one of us. One might see this worldview as naïve, but Rizzi wants us to shed the heavy weight of bias and distrust, and embrace each other with open arms and hope for the best possible future.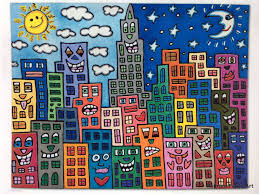 James Rizzi created album covers for famous artists as well as designed toys and puzzles. He also designed the famous logo for the 1996 Atlanta Olympics. He was considered the successor to the legendary legacies of Andy Warhol and Keith Haring, two of New York's more iconic pop artists. There are elements of artists like Picasso, Hundertwasser, and Dubuffet in his work, which help connect it to the greater world of art history. A careful eye can spot explicit traces in his earlier work and more subtle traces in his later work.
James Rizzi paintings are valued at $200 to $25,000. We're interested in purchasing various James Rizzi artworks for cash, please reach out via email or phone if you're interested!